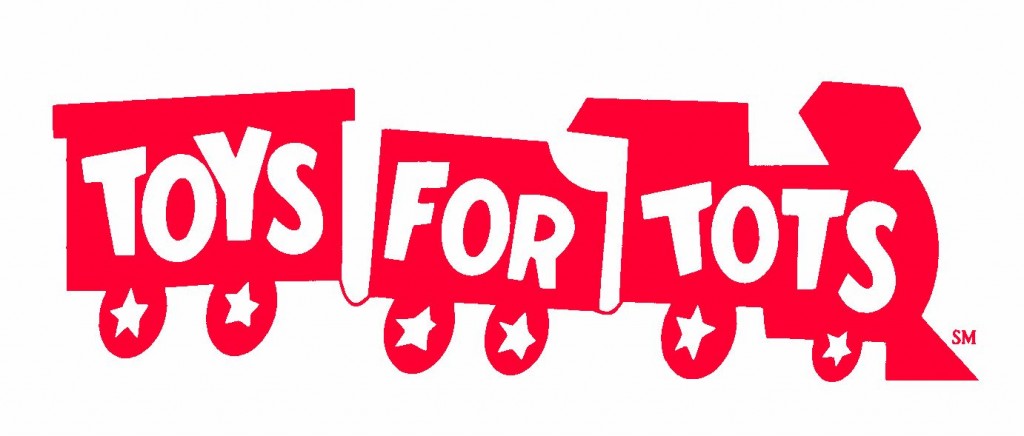 Kick off the holiday season with some beer and BBQ and while you're at it, help out some kids as well!
On Wednesday November 28, Starvin Marvins BBQ will be guest bar tending down at our favorite tap-room, Tap 25 in Livermore.  As awesome as that sounds, there's more!  We'll be donating all tips earned by our hard work, beer pouring and mildly funny jokes to the Marine Toys for Tots Foundation!
Hold on, there's more…we are a BBQ team, right?  We'll be serving up both chicken and pulled pork sliders to benefit Toys for Tots as well. To get your hands on some tasty BBQ, bring an unwrapped toy for the bin and get 3 free sliders, after that they are $1 per slider with 100% going to Toys for Tots. If you don't bring a toy to donate and still want award-winning BBQ, you pay $2 per slider with it all going to Toys for Tots.
Finally, we'll be holding a raffle for a chance to win us!  The winner will have the chance to have us teach you how to cook ribs…the Starvin Marvins way!  From start to finish, we'll show you how we do it!  Again, all proceeds from the auction will be going to Toys for Tots.
You know you're going to have a couple beers that night anyway right? So why don't you come on down to Tap 25 for some beer, BBQ and good times all while we raise some money for the Marine Toys for Tots Foundation!
Details:
Where - Tap 25, 25 S Livermore Ave, Livermore, CA 94550
When – 6pm-10pm.  Wednesday, November 28, 2012
Why – To have some good beer, tasty BBQ and a damn good time!
If you can't make it in person but still want to help, you can donate online here.
Hope to see you down there!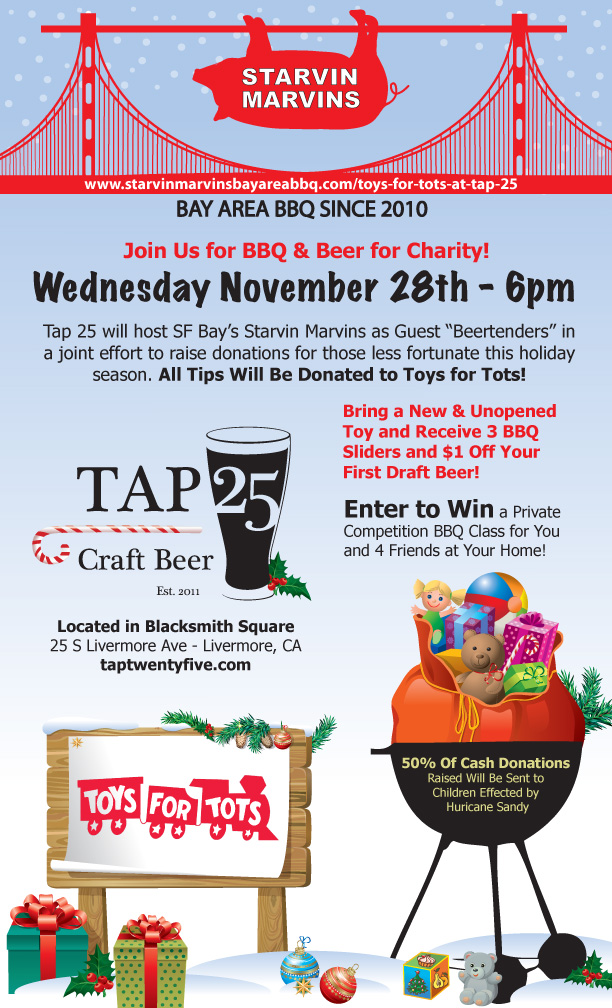 A few weeks back we rolled up to Oroville, CA for our one and only competition of the year, The First Annual Feather Falls Casino Brews & Brats BBQ Championship.  After a summer of promoting Bulls Eye BBQ sauce on pulled pork, we were really excited to be on the competition trail again!
This was a three-category competition where we turned in chicken, tri-tip and ribs.  Our timing and cooking techniques were definitely rusty, but we somehow, some way pulled off three calls, two walks and a first place over all!  We finished first in chicken, sixth in tri-tip and fifth in ribs with a first place overall, our very first GC (grand champion)!!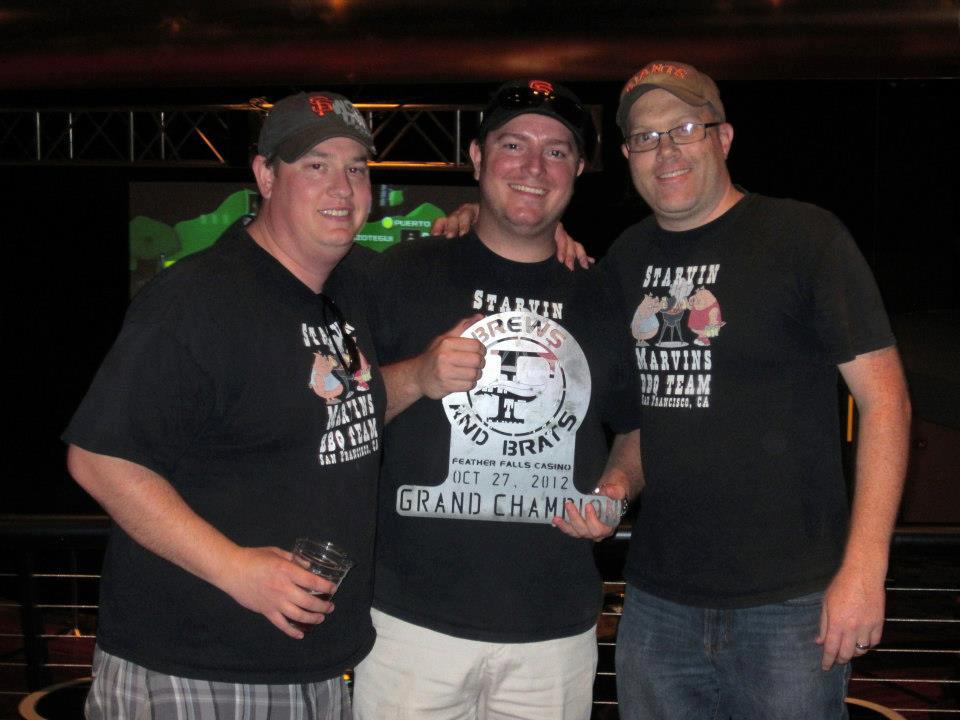 Overall Standings:
GC – Starvin Marvin BBQ
RGC – Mr. Applejack's BBQ
3rd – Ash Kickin' Smokers
4th – Pirates of The Pig
5th – A & L BBQ
6th – Big O's BBQ
7th – Ead's Down Home BBQ
8th – ROKN4MBBQ
9th – BBQ Patriots
10th – Big Shot BBQ
11th – High Sierra Sausage Company
12th – Chuck Wagon Cookin
13th - Smokin Good BBQ
14th – Grateful Swine BBQ
15th – Papa Dave's BBQ
16th – Aroma Catering BB
17th – West Coast BBQ
We have some cool things coming up, stay tuned and we promise to be around more than we have been!